JotDown
A downloadable tool for Windows, macOS, and Linux
JotDown is a markdown editing suite, designed to organize and edit markdown files in one or more directories.
Your files are stored in portable, standard markdown format on your machine.
JotDown has no cloud storage, but you can easily put your files in a directory shared with other systems via Syncthing/Dropbox/OneDrive/Box.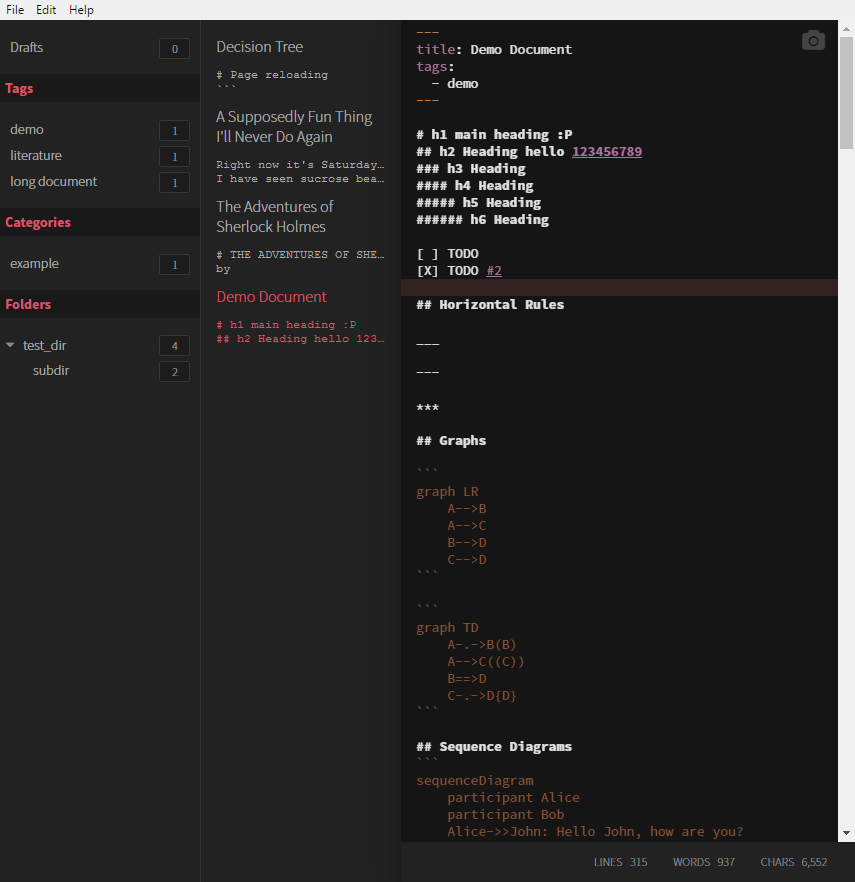 Files are organized by using standard yaml at the beginning of your markdown documents, letting you add document titles, categories and tags that live with your markdown documents.

As a markdown editor, JotDown has a number of standard and non-standard features, including:
Rendering of flow charts and sequence diagrams
Markdown preview including synced checkbox lists and diagrams
A synchronized outline view for easier document navigation
Typewriter and distraction free modes, removing UI and centering your text on the screen for improved focus, hopefully.
(optional) Vlambeer-inspired powermode. Make writing streaks more exciting
What needs to be done:
Neither the Windows nor Mac builds have been signed, which will either show a scary warning, or prevent JotDown from running entirely on your machine.
The Mac build is completely untested. If it works for you, let me know!
The window frame is currently unstyled, and looks ugly on some systems.
Changelog:
2019-11-26: Lots of changes when resizing window sections. Mostly it's more intuitive. Sometimes it's weird. Should be more difficult to end up with sections that extend beyond the window. Sections expand and collapse in a more accordion-like way, instead of getting stuck.
2019-11-24: Added autosave + save when jotdown loses focus. Added document outline tab based on document headings.
2019-09-23: Removed folder deletion (use your file manager for this instead). Added always-on labels for the two side panels for clarity. Moved away form self-contained exe to simple directory for Windows.
2019-09-21: Fixed adding adding directories failing, always prompting when reloading the app.
Download
Click download now to get access to the following files:
JotDown-0.9.3.AppImage
62 MB